Meet Dr. Karl Lautenschlager
Meet Dr. Karl Lautenschlager
Published: June 21, 2019
Meet Dr. Karl Lautenschlager
Here at the offices of Dr. Raul Martinez, we have some exciting news: we have a new doctor on staff! The renowned Dr. Karl Lautenschlager has just joined our team of chronic pain management specialists. In addition to serving as a Lieutenant Colonel and providing advanced acute pain management care to the Army, Dr. Lautenschlager has served as the director of the Interventional Pain Management Center at Brooke Army Medical Center in San Antonio, as an associate professor of anesthesiology at the Uniformed Services University, and as the associate program director for the Pain Medicine fellowship at USU. In this interview with Dr. Karl Lautenschlager, he discusses his new career in civilian medicine, his career highlights, and his love of San Antonio ice hockey.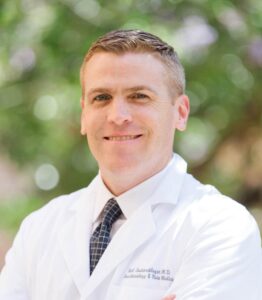 1. Tell me about your background and experience in the medical industry.
I initially became interested in medicine during college. As a biology student, I was a member of the Virginia Tech Rescue Squad, where I provided advanced life support 911 services to the university community. Then I attended medical school at the F. Edward Hebert School of Medicine at the Uniformed Services University of the Health Sciences (USU), the only U.S. federal government-run medical school with a mission to prepare physicians for service in the military. After graduation, I completed my medical internship and residency in anesthesiology in a combined program between the Walter Reed Military Medical Center (where I later completed my fellowship training) and the National Naval Medical Center.
Following graduation, I was stationed at the Brooke Army Medical Center in San Antonio from 2012 to 2019, when I separated from the Army in the rank of Lieutenant Colonel.  Here I fulfilled the dual role of providing advanced pain management care and anesthesiologist services to the U.S. Army. During this time, I was a director at the Interventional Pain Management Center and teaching at the Uniformed Services University. Specifically, I was responsible for providing advanced pain management practices such as injections, ablations, and neuromodulation to my patients while instructing advanced graduate medical trainees.
2. What led to your decision to practice alongside Dr. Martinez? What are you looking forward to in terms of working with this team?
I was initially introduced to Dr. Martinez by a colleague while still serving on active duty. Dr. Martinez then offered me the opportunity to work part-time with his practice. The experience of working with Dr. Martinez and his team was a drastic change from my previous experience of military and academic medicine. This team provided an opportunity to work in civilian practice after my separation from active duty.
During my part-time work with Dr. Martinez, I personally witnessed a practice that provided ethical pain management and worked to improve the lives of all patients under its care. Dr. Martinez also exhibited an excitement and vision of an expanded practice that could incorporate many of my advanced pain medicine skills to further improve the services provided to patients.
3.  What do you most enjoy about practicing medicine? What about helping patients with pain management in particular?
I'm most excited about introducing cutting-edge technologies in pain medicine to patients who have suffered from chronic pain and have been failed by conventional pain management techniques. Recent advances in engineering have led to new treatment modalities, which have been successful in treating pain in patients who previously had limited treatment options. More importantly, these treatments often provide improvements in function and quality of life, with limited side effect profiles and decreased risk when compared to previously accepted therapies.
4.  What are some of your areas of expertise?
I'm board-certified in Anesthesiology and Pain Medicine by the American Board of Anesthesiology. My experience in academic medicine has led to my continued exposure to the most up-to-date literature and advanced treatment options. This has led to my exposure to advanced neuromodulation techniques, including dorsal column spinal cord stimulation and dorsal root ganglion stimulation. [I also have] advanced training in non-spine procedures, intradiscal procedures, and vertebroplasty.
5. What would you characterize as some personal or professional strengths of yours?
I believe that I manage to balance compassion for the patient in severe pain with treatment options that will benefit them in the long-term, without placing them at risk. I am also capable of bringing advanced technologies and evidence-based therapies to these patients.  Most importantly, I believe my previous academic experience has led to an increased ability to educate my patients regarding the treatments that I am willing to offer and the reasoning behind such decisions.
6. What would you say has been a career highlight thus far?
I believe that my career highlight to date would be my involvement in academic medicine and [my role in] training the pain medicine physicians of the future. I've had the pleasure of being part of programs that stress advanced treatment options that allow for a reduced reliance on high-risk treatments that have been previously used. I've also had the opportunity to observe my previous trainees in their own practices, and I continue to serve as a mentor.
7. What about your family, interests, and hobbies?
I have a rather large family with four children who are involved with multiple social and sporting activities. We're a little different than most families in San Antonio, since we have brought some of our northern roots to the city and are actively involved in ice hockey programs. Yes, ice hockey exists in San Antonio! I currently play in an adult league (albeit basic level) and have two children who are involved in the sport. Our family is involved in the Junior Rampage travel hockey program, and I'm active in coaching the basic level youth hockey teams.
Texas Pain Management Specialists
To learn more about Dr. Karl Lautenschlager and the rest of our team, click on our Meet Our Team page. And if you're wondering, "How can I find a qualified pain management specialist near me?" then look no further than Dr. Raul Martinez and Dr. Karl Lautenschlager, two of the most qualified Texas pain specialists – now in one convenient location. To schedule an appointment or a consultation, give us a call today at 210-441-4333.
[rev_slider alias="blogbutton2″][/rev_slider]
Published: June 21, 2019
Share this Post:
Our Most Recent Posts: